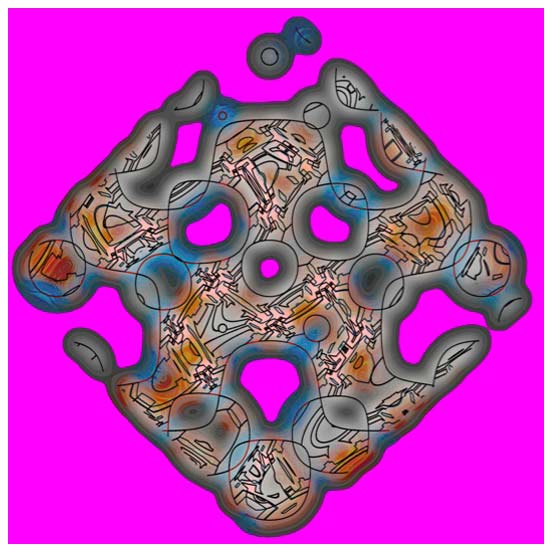 Digital Prints:
are generated from the coloured number patterns illustrated in the previous pages, driven by the lessons learnt.
They are the unexpected, infinitely variable products of a game with few rules. They can be read as "abstracts", but hopefully they reveal to the viewer something of the processes of which we are all part. Number is here used as a metaphor for those processes … which like those processes has huge potential for self generation.
These prints were first exhibited as part of a two man show by Keith Albarn and Jim Birdsell, entitled "no. art" as part of London Design Week in 2007 [supported by www.fourgraphics.co.uk]. The text below is taken from the artists' statement and their "titles" are for the artists' identification only.
The prints are computer generated from a combination of the digits 1 – 9 derived from the Fibonacci and related Series commonly found in Nature and the Arts. They are the result of many years research, trial and error. Their meaning lies in their genesis … from simple beginnings in this case digits may develop complex structures … they grow from and become metaphors for the processes of life itself and hint at the laws governing the processes of creativity [self- generation] in nature, our behaviour and here of course as art.
The images are archival quality, digital prints, The items exist in their own right, as presented, but as their genesis is digital these images may be made available for a wide range of materials, processes and applications, smaller or larger, in two, three and four dimensions.
Keith Albarn